Don't Miss Out on CSM 2024 Boston: Academy of Pelvic Health Physical Therapy Events!
Date posted
October 26, 2023
Are you passionate about pelvic health and physical therapy? The Academy of Pelvic Health Physical Therapy is thrilled to invite you to a series of remarkable events at CSM 2024 in Boston, Massachusetts, from February 14-17, 2024! Whether you're a seasoned practitioner or just starting your journey in this field, these events are your gateway to unparalleled learning, networking, and recognition. Early-bird rates expire November 8, 2023!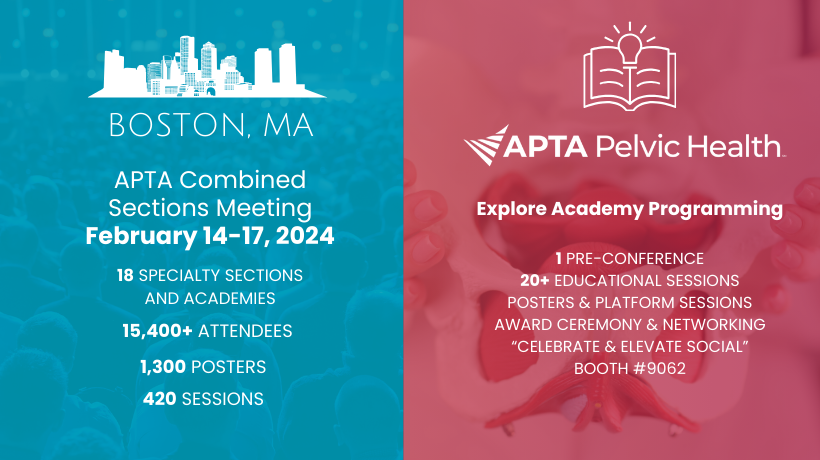 CSM 2024 Highlights:
Feb. 13, 2024 | Virtual General Business Meeting: Come join us online for a comprehensive session where we'll delve into the Academy's operational performance, strategic plan achievements, significant milestones, and future outlook! Members are welcome to join in from any location, irrespective of whether they are able to attend CSM!
Feb. 14, 2024 | Pre-Conference Crash Course on Sexual Medicine with Urologist, Ashley Winter, MD: Are you looking to expand your expertise in sexual medicine for physical therapy? Don't miss our Pre-Conference Crash Course! This intensive all-day course will equip you with the knowledge and skills to address sexual health issues effectively. It's the perfect chance to enhance your practice and make a real difference in the lives of your patients. If you are already registered for CSM 2024, log in to your account and add this pre-con to your existing registration! If you do not wish to attend CSM but want to attend this Pre-Conference, you would still need to go to CSM 2024 to register for this Pre-Con separately!
Feb. 15-17, 2024 | 20+ Pelvic Health Educational Sessions: The heart of CSM 2024 is a treasure trove of knowledge. You'll have the opportunity to attend informative sessions, led by some of the brightest minds in pelvic health physical therapy. Explore the latest research, cutting-edge techniques, and best practices that can take your skills to the next level. Prepare to be inspired and informed by the diverse range of topics covered. View list of Academy-sponsored sessions! Early-bird rates end November 8, 2023!
Feb. 15-17, 2024 | APTA Pelvic Health Booth #9062: Meet our members, volunteers, and staff at the Exhibit Hall in the Boston Convention Center to learn more about membership, programs, opportunities, and events! If you are a current member, stop by for some free swag and to connect with fellow members or volunteer at our booth! Sign up to Volunteer

Feb. 15, 2024 | Awards Ceremony & Networking: Celebrate excellence in pelvic health physical therapy at the APTA Pelvic Health Awards Ceremony. Recognize outstanding individuals who have made a significant impact in the field. After the ceremony, connect with peers, exchange ideas, and build valuable professional relationships during the Networking Hour. This is your chance to forge connections that can last a lifetime and meet the trailblazers of our profession. RSVP now!

Feb 16, 2024 | Elevate Pelvic and Women's Health Evidence! Don't miss this one-of-a-kind opportunity to connect with the faces behind the Journal of Women's & Pelvic Health Physical Therapy and get involved in advancing pelvic health evidence. Whether you have a brief moment to spare or want to delve deeper into the conversation, this event caters to your schedule. Join us for this exclusive Q&A and make the most of this personalized encounter with JWPHPT editors. RSVP now!

Feb. 16, 2024 | Pelvic Health "Celebrate & Elevate": Join us for a unique and informal gathering where you can meet and engage with the Academy of Pelvic Health Physical Therapy's board members, award recipients, special interest groups, volunteers, and members! This opportunity allows you to meet peers, potential mentors, and others! Plus, enjoy a drink and hors d'oeuvres and unwind in a friendly atmosphere. Take the skywalk from the Convention Center to the Westin Boston Seaport District to join us at MJ O'Connor's! RSVP now!
These events are not just about gaining knowledge; they're about building a supportive community of pelvic health physical therapy professionals who are dedicated to improving the lives of their patients. If you want to stay at the forefront of your field, CSM 2024 is an opportunity you can't afford to miss!
Mark your calendars, secure your spot, and get ready for an unforgettable experience at CSM 2024 in Boston. The Academy of Pelvic Health Physical Therapy invites you to join us in this exciting journey of education, celebration, and connection. Be part of a movement that's changing lives – register today!
For more information and to register for CSM 2024, visit APTA Pelvic Health CSM 2024. We look forward to seeing you there!