By Stacie Dichsen, PT, WCS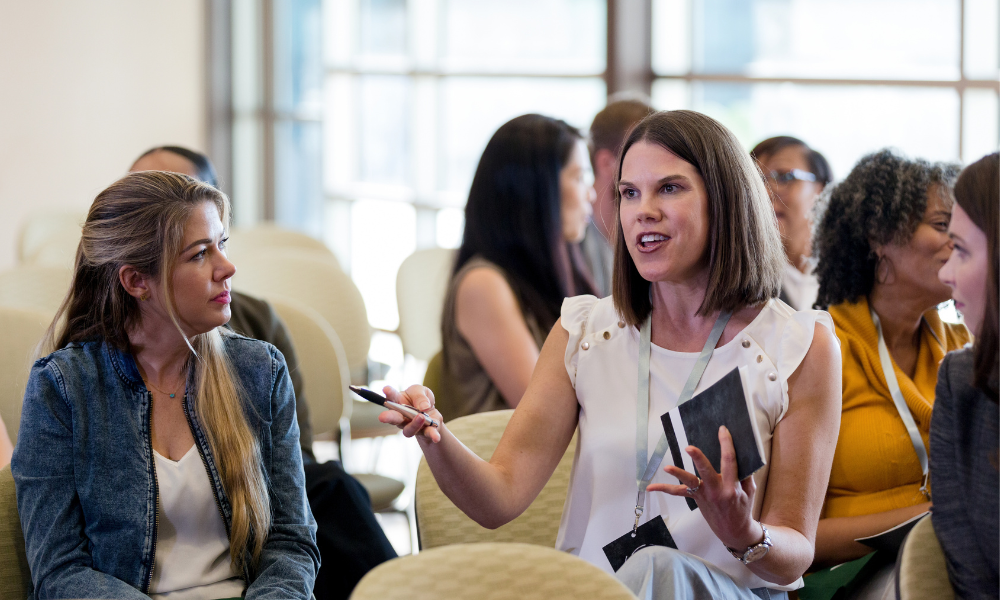 The American Physical Therapy Association and its components are supported by countless volunteers that help deliver resources, education and opportunities to ensure we provide gold-standard care to our patients, connect us to ideas and support within our professional communities, and enable us to work together to impact global wellness. To share observations of the outcomes possible through volunteering and why physical therapists should get involved, I've tapped a longtime Section on Women's Health volunteer and then added my own experience and invitation to action.
Amy Pannullo, PT, DPT, MA, WCS, CLT, has a lot to share about her positive experience as a volunteer for our profession. "By volunteering, you are choosing to give back–to give freely and selflessly of your time, effort and energy without expectation of anything in return," she says. "Ironically, by volunteering within your professional or certifying organization, you do receive much in return. You will network; create opportunities; build, cultivate and foster relationships; and empower yourself and your colleagues. You will grow, both personally and professionally, and you will come to expect more of yourself as you recognize your own potential.
"I've had the pleasure of volunteering within SoWH on both the Nominating Committee and Board of Directors as Secretary, as well as with the American Board of Physical Therapy Specialties[LINK TO www.abpts.org] as a member of the Specialization Academy of Content Experts (SACE) and chair of the Women's Health Specialty Council. Each position has been rewarding in its own way; collectively, they've facilitated tremendous professional growth and enabled me to build long-lasting relationships.
"Whether new to the profession or Section, or new to volunteering, you'll find lots of ways to get involved, use or learn skills and share your passion. You could be the next APTA House of Delegates delegate, SoWH state representative, committee member, board leader, SACE member or WHSC member, so choose today to get involved and give back!"
I echo Amy's enthusiasm for the value of volunteerism. My own experience has focused on the Women's Health Specialty Council, which is part of ABPTS, the governing body that oversees our certification process such as developing the examination and establishing certification and recertification criteria.
When I was invited to an item-writing workshop at Washington University in 2012, volunteering as a SACE was not something I had even considered. I had no familiarity with the council, and I had been away from academics for enough time that I was concerned I wouldn't contribute high-quality questions. However, I soon realized I enjoyed having a reason to investigate the current research, and I found myself adding and changing some of my treatment strategies based on evidence I found.
When asked to transition from SACE to a Committee Content Expert, I found I liked interacting with women's health clinicians I met nationwide. Like Amy, this opportunity also became an avenue for new professional and personal connections, and I was excited to even apply for a position with WHSC.
2017 is my second year with the council, and I am more aware of and engaged with the work of the Section on our profession's behalf. I'm excited to be part of organizations that empower patients with the knowledge they need to live their best life.
If you want to make a difference, too, I invite you to explore volunteer openings within SOWH and WHSC. Volunteer opportunities are available with SoWH and with WHSC at http://www.abpts.org/ForSpecialists/Volunteer/ABPTSSpecialityCouncils.
AUTHOR: Stacie Dichsen, PT, WCS, handles public relations and marketing for the Women's Health Specialty Council.