Pregnancy & Postpartum PT Course in Bengaluru, India January 5-7, 2024
LIMITED SEATS. Seats are filling up quickly! Register today!
---
Friday, January 5, 2024
to Sunday, January 7, 2024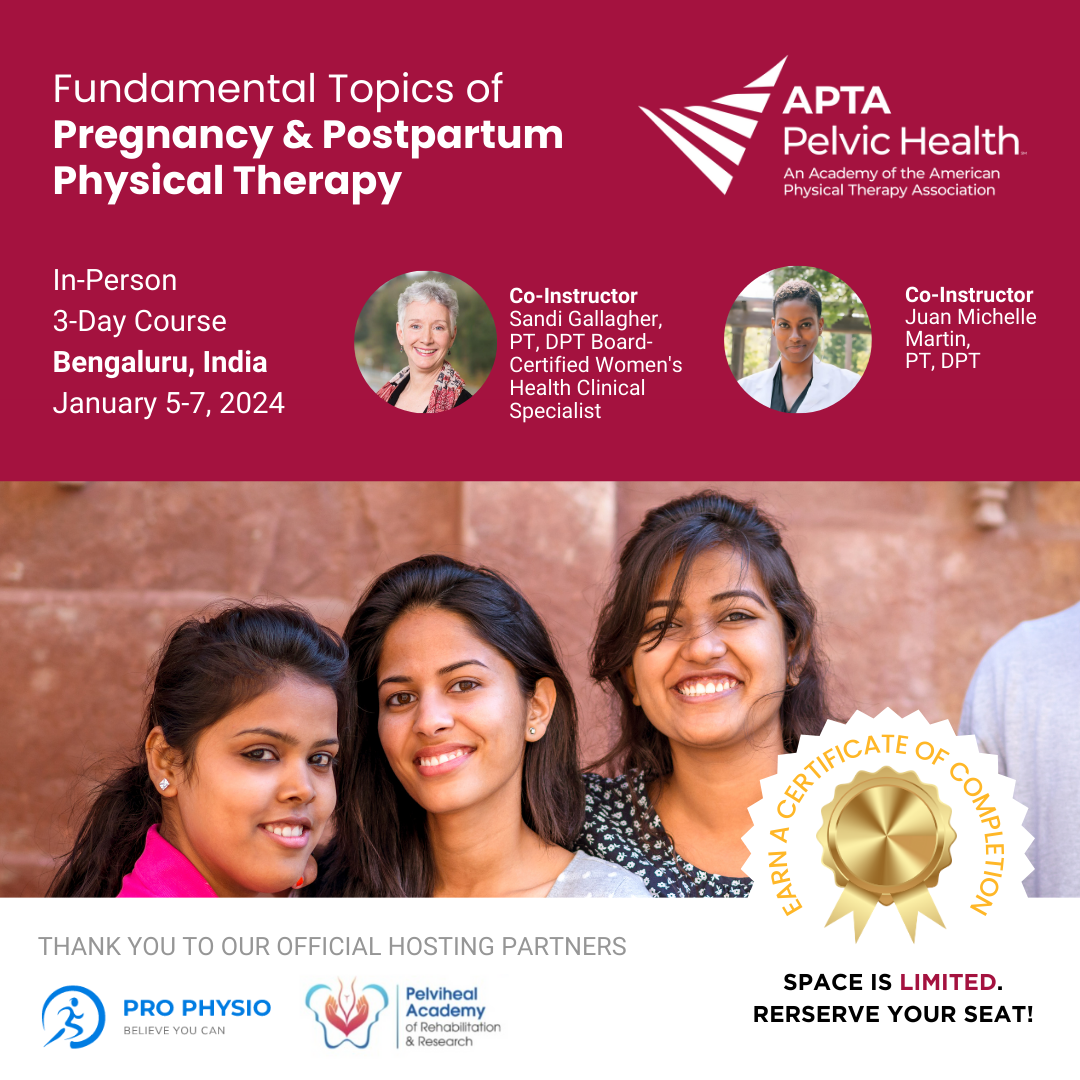 This Academy of Pelvic Health Physical Therapy-sponsored course is open to Physical Therapists, Physical Therapist Assistants, and Student Physical Therapists. This course is instructed in English and registration is managed by Prophysio Healthcare and Pelviheal Academy of Rehabilitation & Research.
To register, please click below to be redirected to our hosting partner's registration form where you will be asked a few questions. Registration payment is processed through our host partners.
Course Description
The Fundamental Topics of Pregnancy & Postpartum Physical Therapy (OBF | 24 Contact Hours) is being instructed in a 3-day, in-person, immersive course format. This course is going to be instructed by Dr. Sandra Gallagher, PT, DPT, Board-Certified Women's Health Clinical Specialist and Dr. Juan Michelle Martin, PT, DPT. This course is taught regularly in the United States and is based on the latest new course content (October 2023) from the Academy of Pelvic Health Physical Therapy and offers a hands-on, evidence-based approach to developing the skills and knowledge necessary for physical therapy assessment and treatment of pregnant and postpartum patients. This comprehensive instruction covers a range of topics, including understanding the anatomical and physiological changes during pregnancy, differential diagnosis in the peripartum period, addressing pregnancy-specific alterations in posture and gait, postpartum recovery, and the assessment and management of scar tissue, utilization of modalities during pregnancy, biomechanical strategies, and fostering exercise and wellness in both the prenatal and postpartum phases. The course delves into advanced clinical decision-making within these specific patient populations.
We will equip you with immediately applicable clinical skills. The course content covers a wide range of practical techniques, including adapting the examination process for pregnant individuals and conducting lumbopelvic examinations and specialized tests, with a particular focus on pelvic girdle dysfunctions. You'll also learn how to assess and intervene in cases of diastasis rectus abdominis, perform external pelvic floor assessments and exercises (please note, we do not cover internal pelvic floor techniques in this course), explore exercise guidelines for pregnancy and postpartum, and delve into scar assessment and mobilization techniques.
During the course, all participants will engage in hands-on lab scenarios designed to integrate their newly acquired skills. These practical sessions involve working in small groups of 2-3 individuals, with each participant taking on the roles of both the clinician and the patient.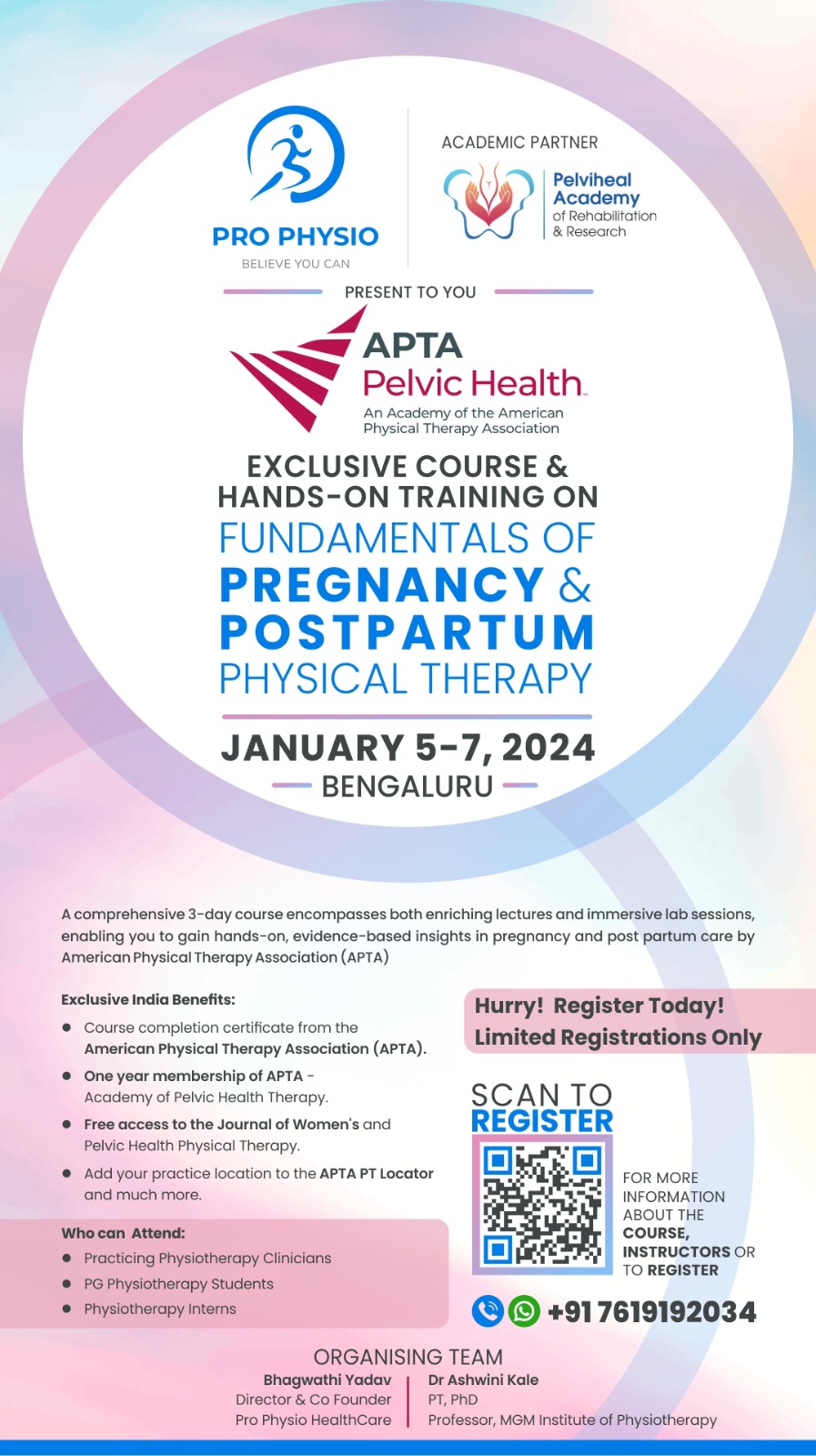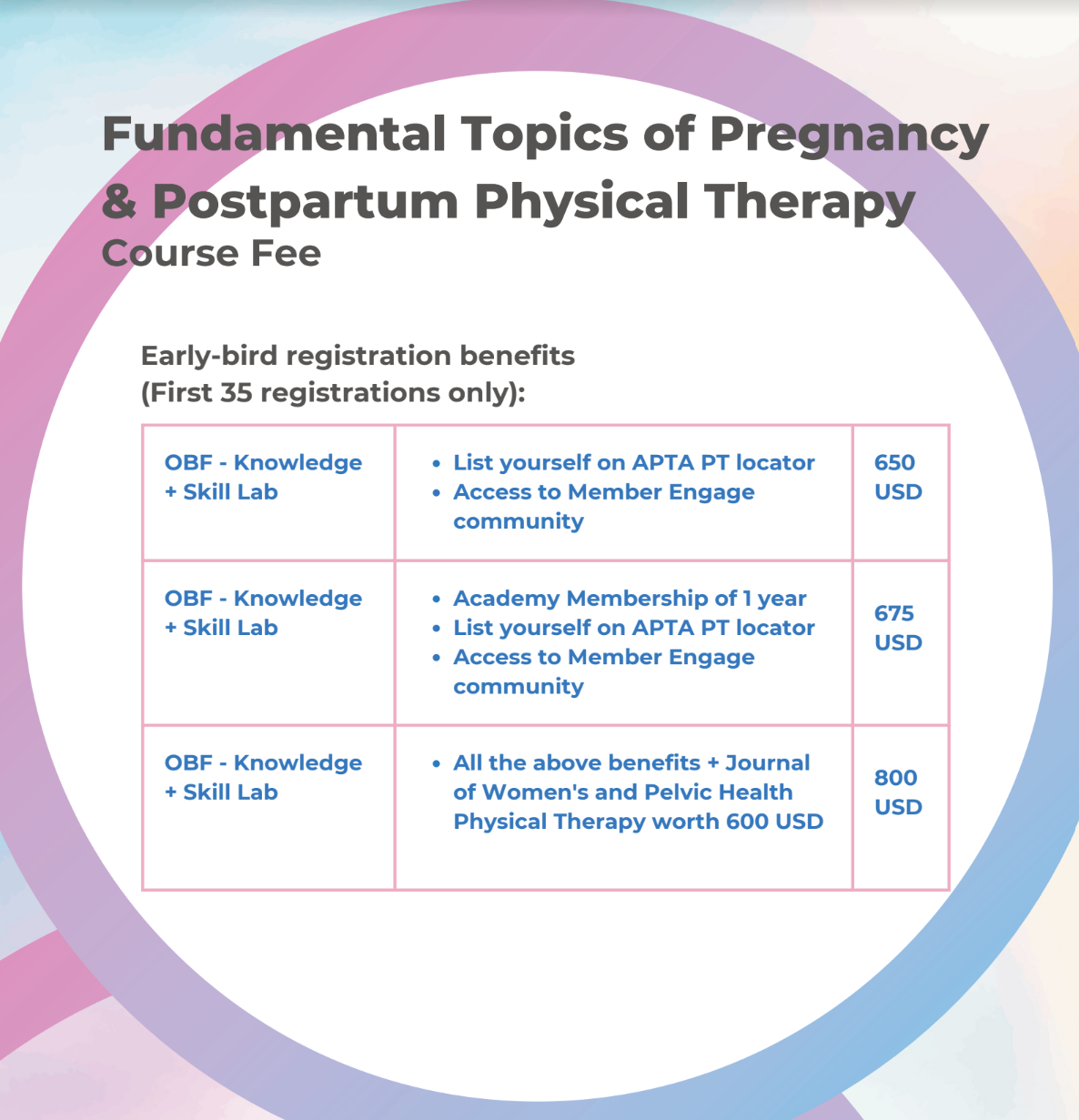 Learn more about PT Locator, Membership Benefits, Journal of Women's & Pelvic Health Physical Therapy
Course Objectives
Upon completion of this course, participants will be able to:
Examination/Evaluation:
Describe the anatomic and physiologic changes related to pregnancy and postpartum and how they affect evaluation and intervention.
Perform an appropriate evaluation of a pregnant or postpartum patient with musculoskeletal dysfunction or pain.
Assess for diastasis rectus abdominis with objective measurement skills
Diagnosis/Prognosis:
Differentiate between musculoskeletal and medical diagnoses based on the subjective and objective evaluation of a pregnant or postpartum patient.
Differentiate between low back, pelvic girdle and hip pain/dysfunction.
Develop functional goals for musculoskeletal impairments in pregnancy and postpartum based on a systematic interview and examination of the patient.
Intervention:
Develop an evidence-based plan of care for physical therapy intervention of pregnant or postpartum patients with musculoskeletal impairments or dysfunction.
Perform selected manual therapy interventions for the treatment of pregnant and postpartum patient.
Prescribe an appropriate wellness exercise program for a variety of skill levels for a pregnant or postpartum client.
Course Materials
24 contact hours of live instruction in webinar format with breakout sessions for group activities
An electronic course manual, pre-reading assignments and additional handouts (6-month access)
50-question multiple-choice exam and survey (30 days to complete after the course)
Certificate of Completion (issued upon 80% or higher score on exam)
A digital badge demonstrating your successful completion of the course which you can share on your LinkedIn page or your website