Back to Products
2023 WCS Study Guide | Prepare for the Board-Certified Women's Health Clinical Specialist Exam
Downloadable Products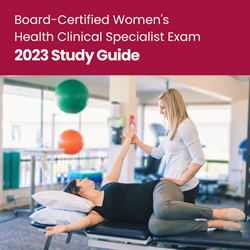 A Board-Certified Women's Health Clinical Specialist demonstrates advanced knowledge in foundational science, behavioral science, clinical science, client management, and practice management in the realm of women's health physical therapy. In 2006 the APTA House of Delegates approved board certification in the area of women's health. The first women's health specialist certification examination was administered in 2009. As of June 2023, ABPTS has certified 700+ women's health specialists. Learn more about the ABPTS Board Certifications.
ABOUT THE STUDY GUIDE
This study guide has been designed to provide you with the resources to assist in your studies to prepare for the Women's Health Specialty Examination but is by no means an exhaustive list. The study guide provides a list of recommended articles and books to review and covers a wide range of topics relevant to Women's Health Physical Therapy. Please note that this study guide does not provide practice exam questions nor article/book excerpts. The study guide lists names of free and paid articles. For any paid articles, the reader may need to purchase access for them separately on their own or with their respective WCS Study group. The recommended articles and books include but are not limited to the following topic areas:
Anatomy and physiology of the reproductive system

Pelvic floor dysfunction and rehabilitation

Pregnancy and postpartum musculoskeletal conditions

Menopause and hormonal changes

Sexual and pelvic pain conditions

Breast health and lymphedema management

Women's health across the lifespan

Study tips
Find Your WCS Preparation Study Group via Member Engage
All Academy of Pelvic Health Physical Therapy members get FREE access to the study guide. In addition, all members automatically gain access to Member Engage, an exclusive online social community for the 3,900+ Academy members. We have created a dedicated WCS Preparation Group within our online community platform where you can find others who are preparing for the WCS. This is a great starting point for finding fellow study partners or accessing additional tips from our WCS Study Guide Task Force members and other Academy members. Learn more about Member Engage or click here to access! If you are not a current member, consider joining to get this study guide for FREE as well as a plethora of other member discounts on courses, events, and products! Learn more about the benefits of joining membership.
Study Guide Scope
The study guide is intended to assist candidates in preparing for the certification exam. It offers comprehensive content review recommendations about the subject matter. However, it's important to note that this study guide is not an official document endorsed by the certification body. The accuracy and relevance of the information presented here are not guaranteed to perfectly align with the content of the actual exam.
Candidates should be aware that the certification exam's content may vary, and the study guide may not cover every potential topic or question that could appear on the exam. While every effort has been made to ensure the accuracy of the information within this guide, the authors and publishers do not assume responsibility for any errors, omissions, or outcomes resulting from the use of this material.
Candidates are encouraged to supplement their preparation with additional resources, such as official exam outlines, reference materials, and practice exams if provided by the certification body. The study guide is meant to be a supplementary tool and should not be solely relied upon for exam success.
Ultimately, the certification exam's outcome relies on a candidate's comprehensive understanding of the subject matter and their ability to apply knowledge effectively in a testing environment. This study guide aims to contribute positively to the preparation process but does not guarantee a specific outcome on the actual exam.
Administration Disclaimer
The direct administration and management of the certification exam are not conducted by the Academy of Pelvic Health Physical Therapy. Although numerous Academy members do participate in taking the certification exam and some even voluntarily provide input for potential exam questions, it's important to note that ownership and oversight of this board certification exam do not lie within the Academy's purview. If you wish to get in touch with the ABPTS (American Board of Physical Therapy Specialties) or access the candidate guide to gain a better understanding of application prerequisites, deadlines, and additional details, we recommend visiting the ABPTS website at www.specialization.apta.org/become-a-specialist/womens-health.
Purchases are non-refundable and non-transferrable.
Proceeds from study guide sales help support our annual research grant, scholarship programs, and other Academy initiatives that support the advancement of the profession.
FREE for current Academy of Pelvic Health Physical Therapy members!
---